White Ribbon Alliance Pakistan Chapter
About the Forum
Who We Are
The Forum for Women Development and Research – White Ribbon Alliance Pakistan Chapter is a movement powered by the people, driven by the passion to empower women, improve reproductive, maternal & new-born health, ensure women rights and champion gender equality. Our commitment is rooted in the belief that every woman and girl in Pakistan deserves not just good health but the right to a fulfilling life.
It is an assembly of over 300 individuals from various walks of life—public health professionals, active women and youth advocates, insightful parliamentarians, dedicated academics & researchers, influential religious leaders, and voices from the media—all converging on a single platform. This unique collaboration is dedicated to its goal focusing on citizen-led accountability, family planning, maternal well-being, maternal health and nutrition, respectful maternity care, addressing climate change, promoting gender equality, fostering social change, and ensuring the health of mothers and newborns.
This collaborative initiative embodies our overarching mission: a steadfast commitment to critical areas that collectively uplift sexual and reproductive health. Forum for Women Development and Research is not merely a forum; it is a neutral ground and a trusted partner that bridges the gap between government and civil society. Our approach to advocacy is transformative, blending meticulous research with the real voices of communities. We believe in direct engagement between policymakers and citizens, making change not just meaningful but lasting. The forum believes that citizens are not just observers; they are active participants. The forum is also identifies policy gaps and holds leaders accountable for effective women's development initiatives.
Focus of our forum lies in a deep focus on sexual and reproductive health. We understand that gender inequality, the impact of climate change, and the absence of initiatives for women's empowerment directly affect this crucial aspect of well-being. Our approach is multi-faceted, addressing these interconnected challenges to contribute to building a more inclusive, equitable, and healthier society. The Forum for Women Development and Research is more than a mere organization; it stands as a formidable force dedicated to tirelessly fostering positive transformations for women and girls globally
More About Us
OUR VISION
A Pakistan where every woman and girl enjoys the right to quality health and overall well-being. We strive for a society that values their diverse contributions and provides equal opportunities for education, economic empowerment, and social participation
OUR MISSION
To empower communities in fostering the holistic development and well-being of women, advocating for equal opportunities in health, economic empowerment and social participation.
Our Strategy
Forum strives to mobilize citizens to advocate for improved reproductive, maternal, newborn and child health outcomes while demanding accountability for commitments made by decision-makers. More…
OUR AREAS OF FOCUS
Citizen-led Accountability
Family Planning
Maternal Anemia
Nutrition
Respectful Maternity Care
Climate Change
Gender equality
Social Change
Maternal and Newborn health
What we have done
Our Journey So far
Forum for Safe Motherhood (White Ribbon Alliance Pakistan Chapter) as it stands today reflects a capacity and expertise that has been honed over more than a decade. Through the years, we have redefined health advocacy for policy reform in Pakistan by augmenting evidence communication processes by technocrats with community voices.This approach is based on our philosophy…
More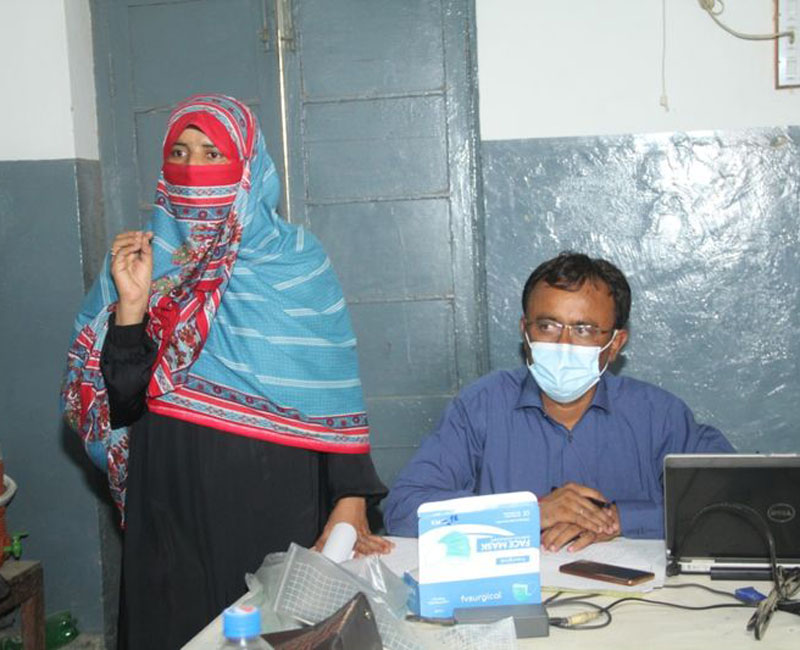 On October 9, 2020 Forum for Safe Motherhood (White Ribbon Alliance Chapter of Pakistan) organized...
Women sufferance amid the socio-cultural norms
"My life is a tale of constant struggles, but I am determined that no other woman living under same circumstances should suffer," says Zeenat Bibi, a resident of Swabi district, Khyber Pakhtunkhwa province Pakistan. Swabi is a small district of Khyber Pakhtunkhwa province of Pakistan. People of People of Swabi continue to lead lives dominated…
See More Stories
If you have a will, you will find a way, no matter what the obstacles
"We were very poor and could hardly afford two meals per day. I started stitching clothes and my husband worked as a laborer. It was my passion to ensure that all my children go to school. I had to stand for my children's right and fight the family, our tribe and community."
See More Stories
From teenage girl to mother of three – Story of a Journey
"My husband never worked, so I had to go out and look for work at an early age." Rehnaz, now 25, is a mother of three children, living in a small house shared by her brother in law. While her eldest son goes to school, Rehnaz's six years old daughter remains deprived of her right to education.
See More Stories
See us Through
Documentaries
Safer Together – Respectful Maternity Care during COVID-19 Pandemic
Healing Lives – What Women Want for their Reproductive Health
What Women What – The Story of a Campaign