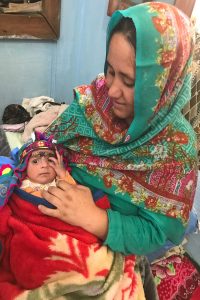 As told to Navroza Sher Ali and edited by Marissa Ware, as part of Safer Together campaign.
COVID19 has changed all our lives and yet, life marches on. Women are still getting pregnant and giving birth during this crisis, making the need for high quality, respectful care even more paramount. From forced medical procedures, mandatory separations of mothers and babies to denial of birth companions, violations of women's and newborn's rights have been widespread across geographies and sociodemographics. We have a long way to go to strengthen health systems globally, and as COVID-19 has made clearer than ever, women and newborns need quality maternity care services and health workers must be supported to provide that care. Reform must begin with women's voices. We must listen to women to understand and respond to their needs, beginning with the resounding call for respectful, dignified care.
My name is Saima and I belong to Chitral, Pakistan.
I was seven months pregnant, when I got to know that my region has experienced the first corona [virus] patient. This news scared me a lot as the health facility nearby, Opeds, shut down and no services like Ultrasound and blood testing was available for pregnant women. My experience in delivering both my babies was very different.  I was not that scared during my pregnancy and delivery of the first baby, though it was my first child and first experience. However, with the second baby, I was very scared because of Corona. My delivery pain started at 8:00 in the morning and it took me 40 minutes to reach the hospital which is quite far from my house.
When I reached the hospital, my fear increased as the health facility is not separated for COVID and non COVID patients. The COVID patients, the pregnant women and all other patients come to the same facility which increases the chances of getting infected.  I saw my baby boy after 10 hours which was not the case in my first child, as I saw her after two hours of delivering her. The delay in showing me my baby further increased my fear as I was scared of my child getting infected in the facility.
Somehow somewhere in my heart I had a hope. A hope that my baby would be safe and secure. The health facility must be taking care of my baby and once I hold my baby, I will give him every protection I could as a mother.
Based on my experience, to all the mother out there I would say that the relationship of a mother and a child is very precious and a mother should stay strong, stay positive and never lose hope whatever challenge she has in her hand.
Listen to Saima's Podcast here